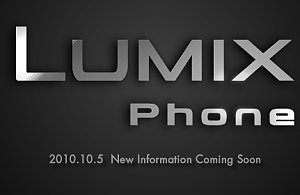 Panasonic has put up a teaser site for its first Lumix-branded phone which should be announced officially on Tuesday.
It is the 13 megapixel snapper, which we hope will live up to the Lumix digicams standards.
The handset is going to be announced next week when CEATEC 2010 starting in Tokyo.
Here is some specification:-
Size:- Height: About 116mm × width: approx 52mm × thickness: about 17.7mm
Weight:- Approximately 146g
LCD:-Full widescreen 3.3-inch VGA LCD include Wi-Fi and a microSD card slot.




Source